A fost publicat Programul de Standardizare Națională – PSN pe anul 2022
PSN este planul de lucru anual al ASRO. Acesta este un document dinamic și cuprinde lista temelor care fac obiectul lucrărilor de standardizare în perioada pentru care este elaborat, stabilită cu luarea în considerare a obligațiilor ce revin ASRO, în calitate de membru al organizațiilor europene şi internaționale de standardizare, şi a interesului exprimat de către autorități şi mediul de afaceri din România pentru această activitate.
Programul de Standardizare Naţională este structurat pe două secțiuni:
Secțiunea I – Participarea la activitatea de standardizare europeană și internațională;
Secțiunea II – Adoptarea standardelor prin metoda publicării versiunii române, examinări periodice, revizuiri și elaborare de standarde originale române.
Consultați PSN 2022.
---
ASRO a lansat oferta de abonare la standardele române
ASRO a lansat noua ofertă de abonare la versiunea română a standardelor naționale aprobate în perioada octombrie 2021 – martie 2022.
Actualizați acum colecția de standarde a companiei sau instituției dumneavoastră!
Standardele române din ofertele de abonare pot fi procurate de la ASRO în format tipărit sau electronic prin intermediul aplicației INFO.STANDARD 5.0.
REDUCERI (față de achiziția standardelor la liber)
20% – Oferta de abonare generală;
20% – Oferta de abonare pe ICS;
25% – Reducere suplimentară pentru membrii ASRO.
Menţionăm că în perioada amintită au fost adoptate și standarde europene – versiunea în limba engleză – care pot face obiectul unei comenzi separate.
Consultați aici Oferta II 2021
Pentru detalii – vanzari@asro.ro, tel – 021 316 77 23.
---
CEN revizuiește standardul european EN 16872
CEN revizuiește standardul european EN 16872:2016, Services of Medical Doctors with additional qualification in Homeopathy (MDQH) – Requirements for health care provision by Medical Doctors with additional qualification in Homeopathy
Revizuirea sistematică își propune să analizeze dacă standardul va fi confirmat pentru încă 5 ani, sau va fi anulat/revizuit. De asemenea va oferi posibilitatea țărilor membre de a participa cu experți la proiectul de revizuire a standardului, și nu în ultimul rând, va clarifica divergențele între cerințele din standard și cerințele legislative naționale existente.
România a participat, prin ASRO, la elaborarea EN 16872:2016, iar standardul a fost adoptat la nivel național ca SR EN 16872:2017.
Invităm toate părțile interesate să contacteze expertul standardizare responsabil, coordonator al sectorului Medicale, la adresa de e-mail: valentina.dinca@asro.ro
Deadline: joi, 26 mai.
---
INNOCONSTRUCT 2022
În zilele de 12 -13 mai 2022 a avut loc evenimentul INNOCONSTRUCT 2022 care a avut ca temă "Drumul către transformarea digitală."
Evenimentul organizat de către Cluster TEC și găzduit de hotelul Pullman – World Trade Center s-a axat pe definirea pașilor, cadrului și instrumentelor necesare pentru a accelera transformarea digitală în industria construcțiilor.
ASRO a avut onoarea de a fi partener al evenimentului, iar mesajul despre importanța standardizării pentru digitalizarea sectorului construcțiilor dar și noile tendințe din standardizare au fost prezentate de către doamna Iuliana Chilea – Director General ASRO în cadrul primei zile.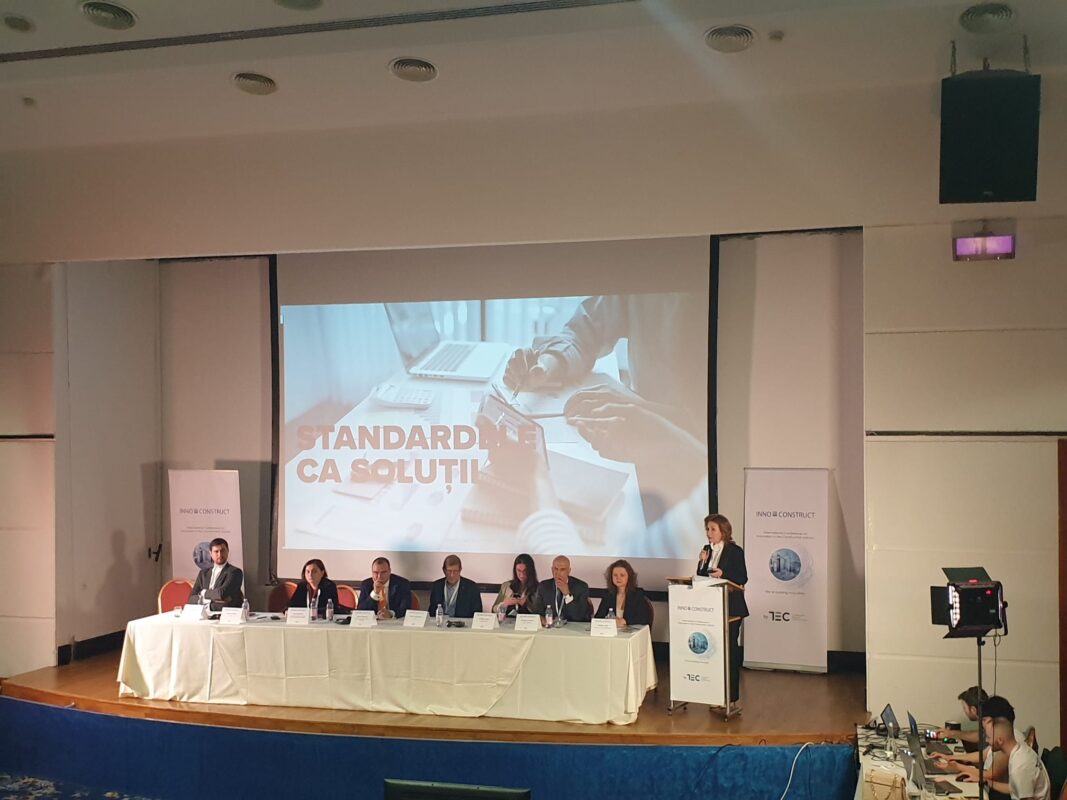 ---
DOOM și standardele
La începutul acestui an, a fost publicată noua ediție a Dicționarului Ortografic Ortoepic și Morfologic al Limbii Române – DOOM care a introdus în limba română 3.600 de cuvinte noi.
Printre acestea se numără "Black Friday", "breaking news" "check-in", "cool" sau "fake news". Ne bucurăm că specialiștii de la Institutul de Lingvistică al Academiei Române "Iorgu Iordan – Alexandru Rosetti" au făcut numeroase referiri la standarde, ceea ce ne indică importanța pe care acestea o au în stablirea regulilor care privesc limba română.
𝐄𝐗𝐄𝐌𝐏𝐋𝐄:
Simbolurile unităților de măsură se scriu conform standardului internațional 𝐈𝐒𝐎 𝟖𝟎𝟎𝟎𝟎-𝟏:𝟐𝟎𝟎𝟗. Amintim că acest standard a fost adoptat și la nivel național (SR EN ISO 80000-1). Standardul prezintă informaţii generale şi definiţii privind mărimi, sisteme de mărimi, unităţi, simboluri de mărimi şi simboluri de unităţi, precum şi sisteme coerente de unităţi.
Conform 𝐈𝐒𝐎 𝟖𝟔𝟎𝟏 data trebuie reprezentată cu ajutorul cratimei, în ordinea an-luna-zi, iar ora cu ajutorul semnului două-puncte (12:00).
Transliterarea caracterelor chirilice în caractere latine se face conform standardului SR ISO 9 care stabilește un sistem de transliterare în caractere latine a caracterelor chirilice.
Transilterarea carcaterelor arabe în caractere latine se face conform standardului SR ISO 233-2 care stabilește principiile de conversiune a doua sisteme de scriere si tabelele de transliterare a caracterelor arabe prin transliterare simplificată.
Scrierile prefixelor din multiplii și submultiplii unităților de măsură sunt reglementate de seria de standarde SR ISO 31-x:1995. Amintim că, la nivel național, aceasta a fost înlocuită în anul 2020 de seria SR EN ISO 80000.