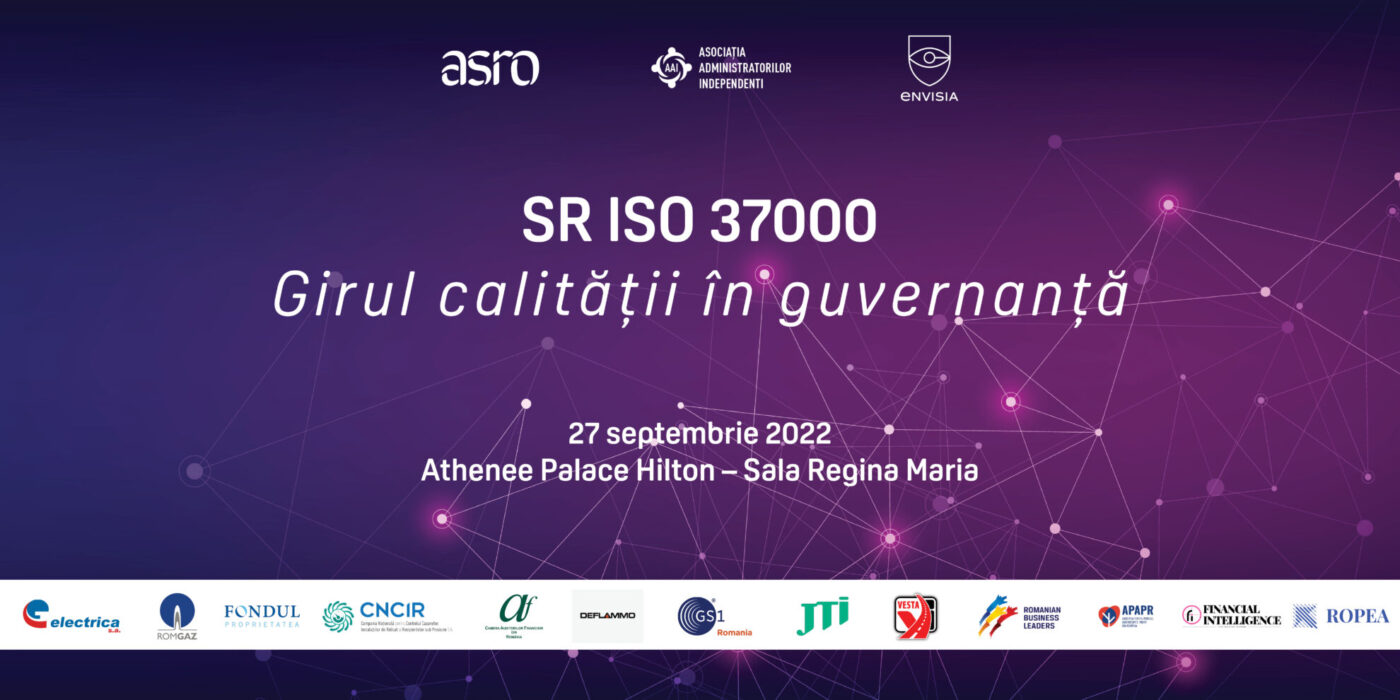 Acționarilor și asociaților
Membrilor Consiliilor de administrație și/sau supraveghere
Directorilor executivi
Directorilor responsabili cu guvernanța și conformitatea și /sau implementarea standardelor de calitate în organizații
Profesioniștilor interesați în aria de activitate ISO
Autoritaților și Reglementatorilor
Participarea este gratuită în limita locurilor disponibile.
Trăim într-o epocă profund diferită față de cele anterioare, aflată într-o continuă schimbare, iar liderii companiilor trebuie să se asigure că organizațiile pe care le conduc pot face față tuturor provocărilor. Standardul SR ISO 37000 le oferă un cadru de lucru și un sistem integrat de guvernanță care îi responsabilizează.
Standardul se adresează companiilor de orice tip precum și celor care le sprijină în îndeplinirea scopului pentru care au fost create, respectiv practicienilor din domeniul guvernanței care fac parte din structurile de guvernanță ale societăților.
agenda
08:30 – 09:00
Înregistrarea participanților & welcome coffee
09:00 – 09:15
INTRO
Sustenabilitatea – diferențiator între succes și eșec
Mihai Purcărea, Membru în Consiliul Director CFA România
09:15– 10:30
panel 1
În ce mod standardele aduc beneficii reale în viața companiilor și a societății?
Ce noutăți aduce standardul SR ISO 37000?
Moderator – Iuliana CHILEA, Director General ASRO
Invitați:
Dr. Victoria Hurth, Senior Associate, University of Cambridge's Institute for Sustainability Leadership, Convenor of the first ISO standard on 'Guidance for Governance of Organisations' – ISO 37000;
Sebastian Metz, Director General & Board Member, Camera de Comerț și Industrie Româno-Germană – AHK;
Dragoș Neacșu, Membru Consiliul de Administrație Electrica S.A., CEO GS1 România;
Aristotel Marius Jude, Director General adjunct S.N.G.N. Romgaz S.A.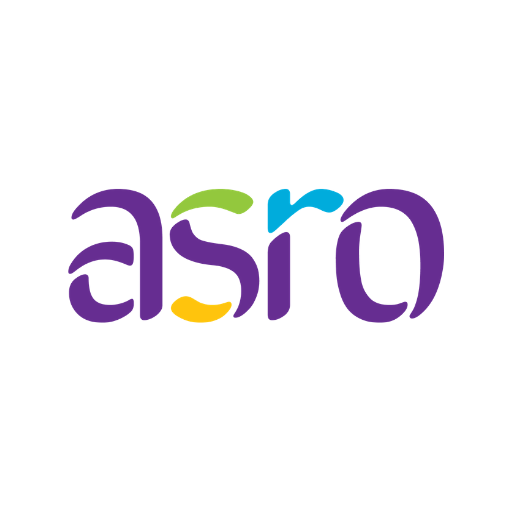 10.30 – 12.00
panel 2
Acționarii și Comunitățile – beneficiarii implementării standardelor de guvernanță
One-to-one: Florin Spătaru, Ministrul Economiei 
Moderator – Simona FĂTU, Președinte AAI
Invitați:
Radu Hanga, Președinte al Consiliului de Administrație al BVB;
Călin Meteș, Deputy CEO Investments, Fondul Proprietatea;
Luminița Runcan, Vicepreședinte AmCham si preşedinte al Asociaţiei Pieţelor Financiare (ACI);
Corneliu Bodea, Președinte Centrul Român al Energiei (CRE)
Daniel Apostol, Director comunicare ASF;
Leena Linnainmaa, Președinte ecoDa – online.

12:00 – 13:30
panel 3
Membrii de board – catalizatori ai guvernanței organizațiilor
Moderator – Adriana LOBDĂ, Strategy & Development Director, Envisia Boards of Elite
Invitați:
Vlad Năstase, Administrator neexecutiv TMK-Artrom, Romarm;
Daniela Nemoianu, Membru Consiliul de Supraveghere BCR;
Rudi Vizental, Membru Consiliul de Administrație ROCA Investments;
Andrei Burz-Pînzaru, Partener Deloitte.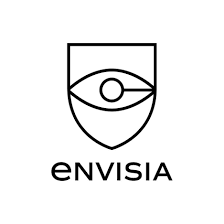 13:30 – 15:00


Lunch & Networking
PARTENERI

SR ISO 37000 clarifică rolurile distincte, dar integrate, pe care organele de conducere și managementul le joaca in cadrul unei organizații și stabilește un limbaj, principii și practici comune care se aplica tuturor tipurilor de organizații.
La elaborarea standardului au participat experți din 70 de țări.
Guvernanța organizațională
Este sistemul de administrare şi control al companiilor, ansamblul relaţiilor unei companii cu acţionarii săi, sau, în sens extins cu partenerii săi (creditori, furnizori, clienţi, angajaţi, autorităţi administrative).
Aceasta include:
principiile etice;
responsabilitatea socială;
bunele practici de afaceri;
activitățile de control.